About Cloud FillyAbout Sky Stallion About the Author Characters Purchase Book Contact Us Fun Stuff Message Board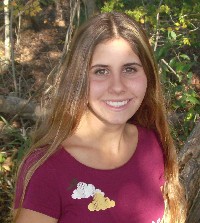 Scoll down to watch a couple of short VIDEOS of Alea talking about autism, her books and her horse! Click twice (depends on your browser) and it loads in just a couple of seconds.....
Alea Bushardt finished Cloud Filly soon after she turned 14 and Sky Stallion at 15. She is shown here at the ripe old age of 17. Alea enjoys writing, riding her horse Sunridge, music, hairdos that look like mushrooms, and tall socks. She is an active 11th grader in public high school with a modified program to support her diagnosis of high functioning autism. She hopes to go to college someday and study creative writing or psychology.
More Videos of Alea on youtube Press Release and audio interview with Alea Book Expo 2006